3 phase water level controller with DOL DIGITAL starter suitable for motor up to 10 HP with HV LV OL DRY protection with spp and timer FOR DEALER
Type: Water Level Controller
Sub Type: Three Phase
Weight: 1.50 KG
Manufacturer: Manthan Automation
Condition: A brand new unused, undamaged item that is fully operational and functions as intended.
Warranty: 1 Year Manufacturer.
Warranty Service: Repair or Replacement.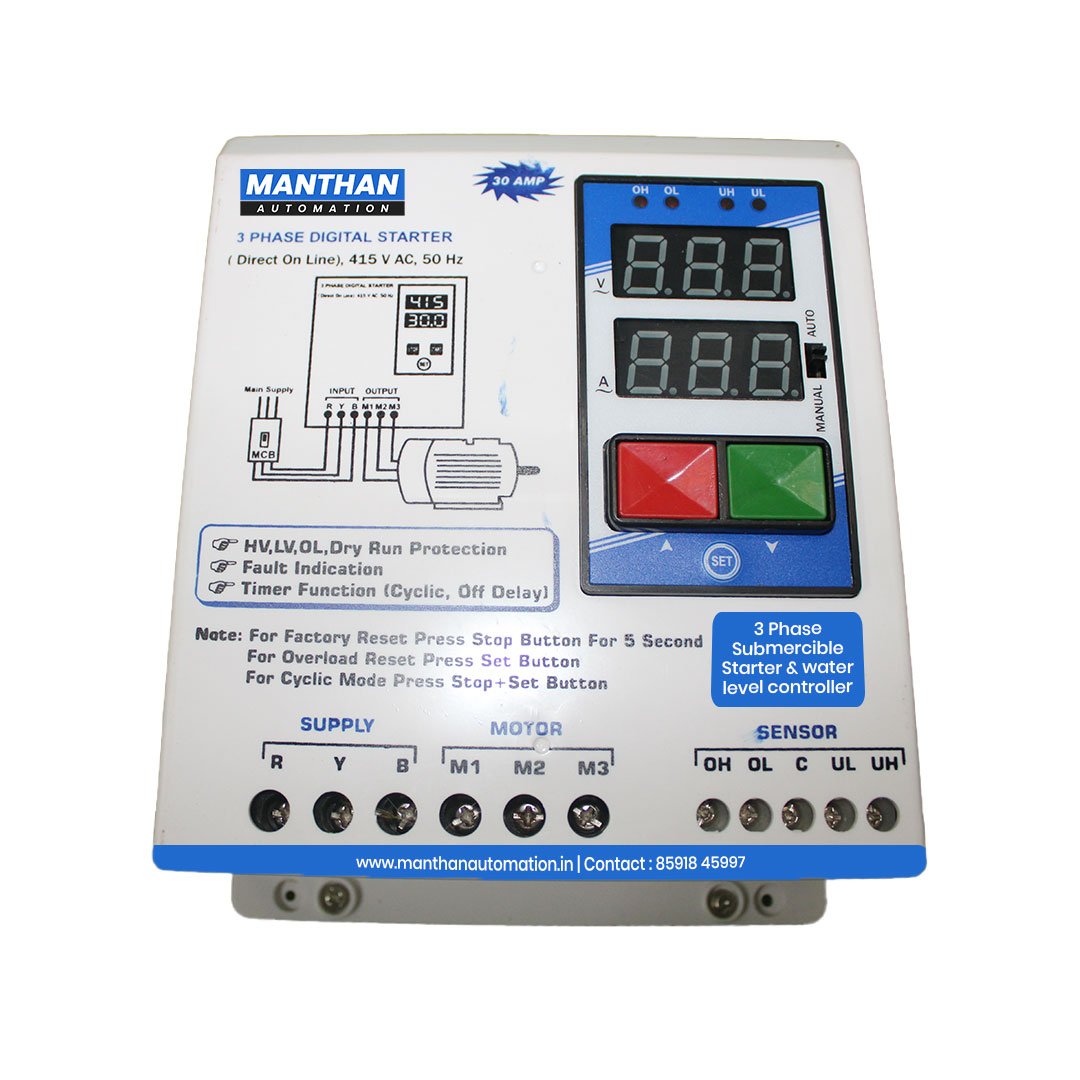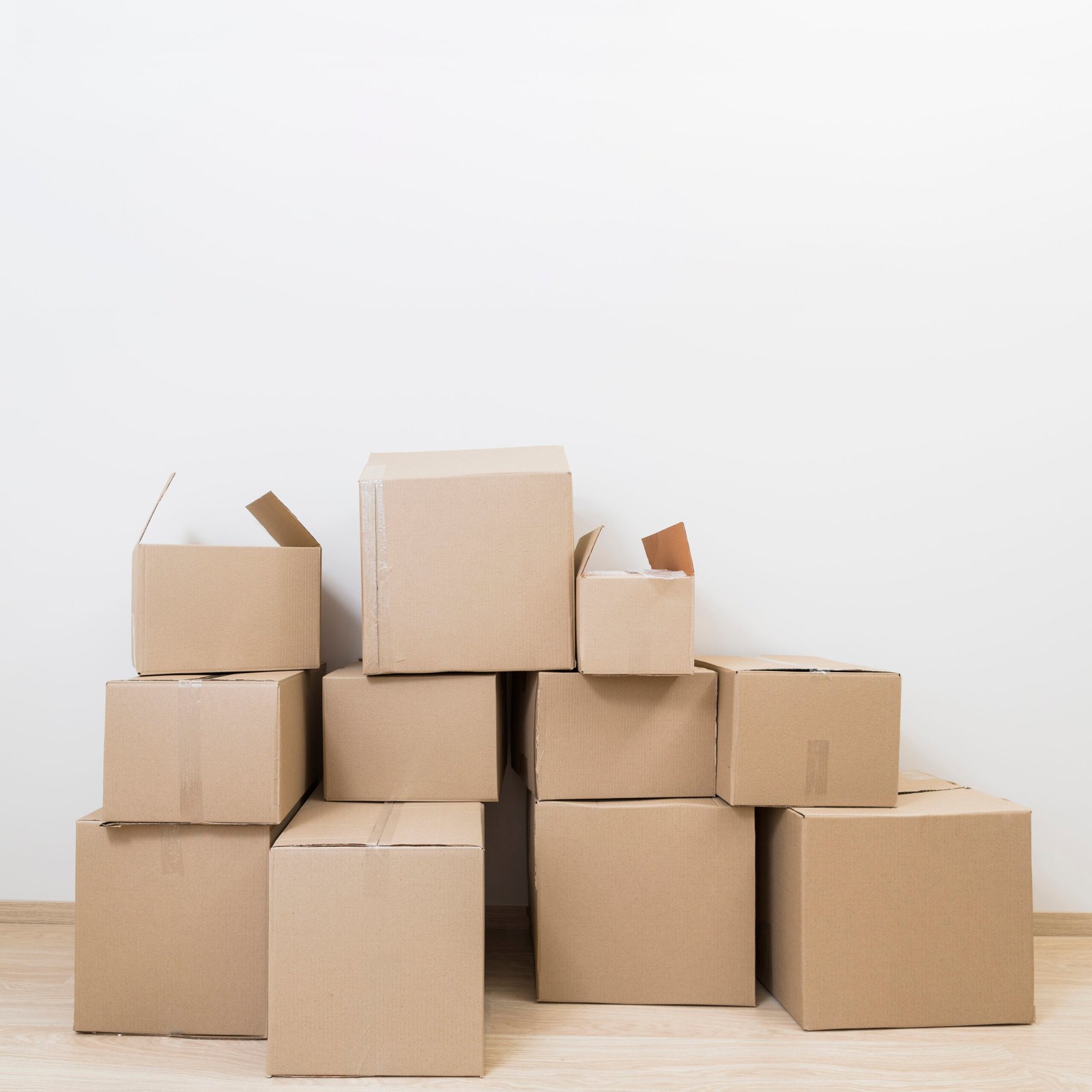 1 Digital Starter with water level controller 
6 S.S sensors 
1 user manual 
This model is the combination of a digital water level controller and motor control panel (motor starter).
Microcontroller based Digital Water Level Controller. All signal will pass in sensor through AC filter circuit that that improves the life of sensor,
Isolated supply provided
Sensor fault detection
Digital Volt and ampere meter are provided to see system voltage and load current accordingly.
Overload Protection,
High & Low Voltage protection,
Current based dry run protection,
Adjustable overload.
Adjustable Dry run current.
Adjustable high low voltage limit.
Cyclic timer provided with bypass facility 
Delay timer provided with bypass facility 
Auto swtich (when power goes and comes it start automatically) provided with bypass facility 
Dry run Auto Reset timer provided with with bypass facility 
Water level indications for both tanks.
Water level controller and water level indicator for overhead and underground tank.
Suitable for the motor up to 10 HP 
protection bypass facility 
Error massages shows on display 
RESET button provided to reset unit
SPP provided
It protect motor from phase failure. In 3 phase motor. Out of 3 phase if any phase failed then motor run in 2 phase and motor winding gets burn.
It protect motor from phase interchange. Out of 3 phase if any phase changed, then motor rotate reverse in this case motor winding gets burn
It protect motor from voltage different between 3 phase, Voltage between 3 phase must be same
Working :
High quality ABS Enclosure.
This model automatically switch ON and switch OFF Motor.
When water level of overhead tank becomes low means water gets down from middle sensor and water is present in the underground tank or sump, motor get start automatically. The tank starts filling up. when the water level reaches to the higher level, the motor automatically gets switched off.
AUTO OFF WHEN TANK IS FULL OR SUMP IS EMPTY.
This model have dry run protection so it only start the motor if water present in underground tank or sump.
Suitable for 0.1 HP to 10 HP Motor, Protect motor from dry running.
Motor ON OFF LED indication provided.
Water Level indication provided for both tank.
Sensing element : 304 S.S sensors it is free from oxidation, long life. Any conducting wire can be use for sensor.
Auto and Manual mode switch available. In auto mode motor start and stop automatically. In manual mode user can start and stop motor by pressing start and stop button of controller. No additional wiring require to operate motor manually. 
Fully automatic, controls from underground tank to overhead tank so no man power required. Long service Life.
Input Voltage : 415 VAC
Output Voltage : 415 VAC
High accuracy in over load and dry run current
It has current based dry running. If motor runs without water then it take lower current then its actual current. so when motor current get down from its actual current, it stop motor and protect motor from dry running.
All signals passes in sensors through the AC filter circuit that improve life of sensor,
Isolated supply provided
Sensor fault detection provided, if sensor got failed LED start blinking
Electrolysis free design