How to make your Building and Society more efficient with a Digital Motor starter ?
The implementation of Digital Motor  Starter in buildings and society can have a substantial impact. In this article, we will discuss some of the benefits of using digital motors and how to make your building and society more efficient.
Digital Motor Starter Panel is responsible for automatic starting and stopping electric motors , and it's something that you'll see in a lot of Technical settings. But what exactly is a digital motor starter? In this article, we'll take a closer look at what this piece of equipment does and how it can benefit your business.
What is a digital motor starter?
A digital motor pump starter is an electronic device that controls the startup of electric motors. It replaces the traditional mechanical starter, which uses a heavy-duty electric motor to turn the crankshaft of an internal combustion engine. The Electric Motor Starter monitors and controls the electrical current and voltage supplied to the electric motor, starting it smoothly and efficiently.
Why We Need Digital Motor Starter For Societies ?
The invention of the digital motor starter has revolutionized the way we live. It has allowed us to build societies that are more automatic and efficient. The Automatic motor starter is a device that starts and stops motors automatically ,It's able to provide quick and easy starts for your motors, and it also offers protection against voltage fluctuations and overloads. It is used in many applications, such as in factories, hospitals, and schools. The digital motor starter is a key component of the modern world.
How Digital Motor Starter Works?
A Digital Motor Starter inbuilt with Water Level Controller operates in a simple manner. The water level indicator is built around the use of sensors to display the level of water in the storage tank. The probes relay data to the panel which activates an alarm or indicator. The control panel is programmed so that the pump is automatically turned on to refill the reservoir with water.
1.) Once the water has come from the municipal water system the water will be sent directly to the tank's bottom.
2.) Municipal water will be shut off or stopped when it is determined that the reservoir at bottom has been fully drained (No Overflow)
3.) 3. The engine will automatically begin to run as soon as tank's ground level is at a predetermined level, and the waters from lower tanks begins rising in the tank above, provided that the that the upper tank is not overflowing.
4.) Once the lower tank begins emptying even if municipal water is still coming and the tank is empty, it will fill up once more.
6.) If the tank's upper levels drop and the motor starts again, and the water will begin growing from below tank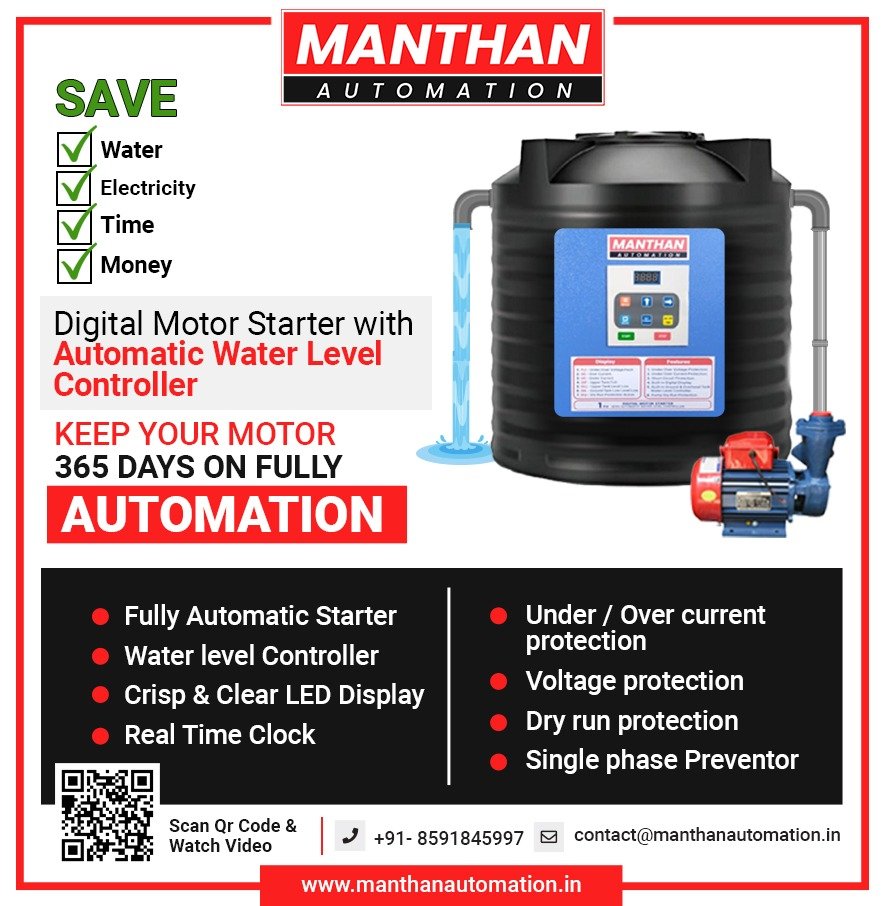 How does a digital motor pump starter benefit society?
As society becomes more and more automated, the need for motor starters that can handle the increased load will continue to grow. Digital motor starters are quickly becoming the gold standard in the industry, as they provide a number of benefits over traditional starters. Perhaps most importantly, digital starters are more efficient, which means they use less energy and produce less heat. This not only saves money on utilities bills, but it also helps reduce greenhouse gas emissions. Additionally, digital starters are easier to maintain and have a longer lifespan than traditional starters. As a result, businesses and homeowners can save money on maintenance costs over time. Finally, digital starters are more reliable than traditional starters, meaning there is less chance of equipment failure. Ultimately, this translates into greater safety and security for society as a whole.
Manthan Automation Electric Motor Starter With Digital Live Timer
The Manthan Automation Digital Motor Starter with Digital Live Timer and inbuilt Water Level Controller  is the perfect motor starter for automating your process. The digital live timer allows you to set and monitor your process times easily and accurately. The motor starter is easy to use and install, making it the perfect choice for your Apartment , Societies.
Complete Water Solution for Apartments and Societies 
1) Under or over Voltage Protection.
2) Under/Over Current protection.
3) Short Circuit Protection.
4) Built-in Digital Display.
5) Built-in Ground & Overhead tank Water Level Controller.
6) Pump Dry run protection.
7) Inbuilt Clock Timer
1) Automate your Municipal Water Supply 
2) Complete Automation Solutions 
3) No Human Role
4) More Water
5) Save Water
6) Saver Electricity 
7) Save Motor Life 
8) Save Money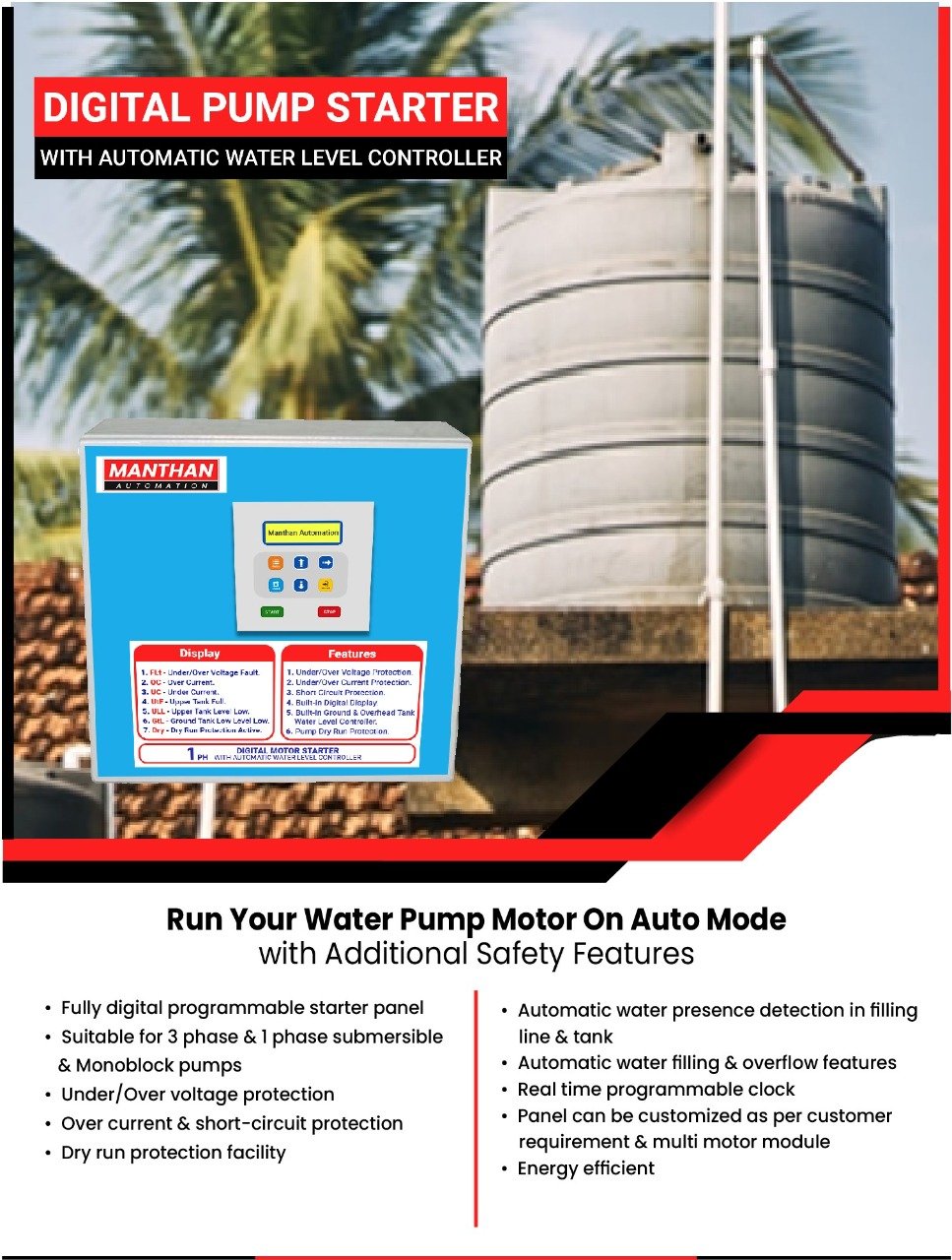 Manthaan Automation is Manufacturer and Distributor of Digital Motor Starter in Mumbai , India .The Company offers an innovative product which helps in starting engines efficiently. The starter is available in different capacities and can be customized to meet the specific needs of the customers. The company also offers a warranty on the product.